A WhitePubs® Site

Cat Vet Day
Date: May 22, 2017
It started out pretty organized: 

First - I got dressed - made up - truck open, garage door up - eye on the clock. Summer objected as usual to the carrier (I need to get her a new one - this one is held together with Gorilla tape! ) Thomas saw me open the carrier - but he stayed in the cat tree and I grabbed him (he was shut in the office just in case) and he went into the carrier - and the front door of the carrier was open and he went right OUT of the carrier ---- and back into the cat tree. Damn. I shut the front door, re-opened the top, and grabbed him again. SCORE!
It's cat vet day because I cannot drag two frisky beagles and carry two cats anywhere. Divide and conquer. Dogs are tomorrow.
It's actually SUMMER (my 11 year old female short haired orange tabby) that needs and exam, but I lost my groomer at Petco and both cats need a nail trim and Thomas is heavy and needs a weight check. He needs his nails trimmed, too. It took 12 hours for him to forgive the first vet visit. He was so annoyed he scratched me. A sneaky, sideways fast paw. Got me twice because I was so stunned at the sneak attack I hadn't moved my hand!

Thomas came to me at 16.9 pounds. He arrived for Christmas after my son drove him 500 miles. He arrived pissed off and terrified. He hid on the shelves, He hissed and spat. He played freeze-frame if I caught him out of a hiding place. His eyes were round and said "SCARED".
We have made strides. Five months of effort. I can hug him. Pick him up (off the cat tree only) and pet and cuddle. And - more important - after I opened the French doors between his room (the old office) and the master bedroom, he has started sleeping on the bed near me. I can pet him once I am under the covers. He has even lolled on my chest and collapsed in a relaxed heap. I wanted to not relapse too much. He's a character and a cuddle bug and a scary-cat, all at once. And has a lovely deep purr, and the most beautiful eyes.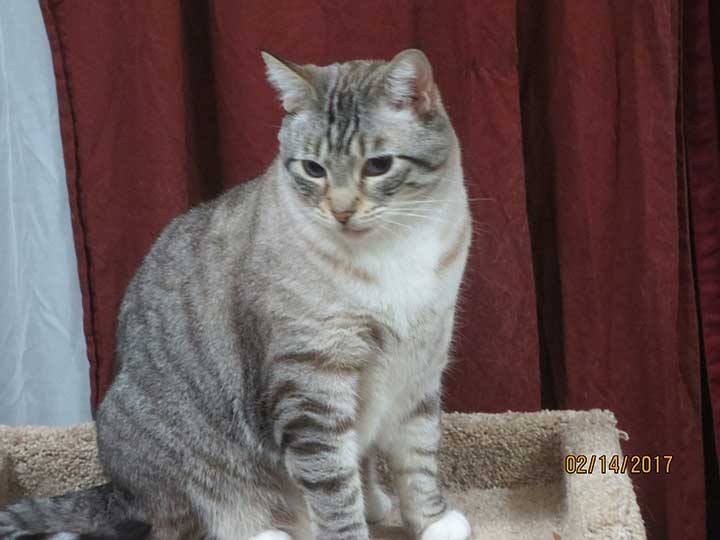 So I was a little nervous but off we went. Once caged, I had to carry him in the carrier DOWN TWO FLIGHTS OF STAIRS. 
HE IS HEAVY. HE IS AWKWARD IN THE BIG CARRIER. (He cannot fit a small cat carrier. He can't fit a cat collar.)
Made it into the truck - with their cages under a towel with my scent. 
I was early - set them by the Vet door facing each other — LOOK - ANOTHER CAT.THey have been nose to nose a couple of times. Summer rules.

When we got in, they whisked Thomas off for nails trim and weight. Thomas came back out. Huddled in his carrier.
Summer got weighed and nail trim and a shot and an exam.

THOMAS —— He was 16.9 lbs when I got him - he's now 18.75 - and that AFTER I had already made drastic changes in his diet and treats. Gone are the handfuls of Temptations. Canned food dropped to 1/3 of a can per day (Salmon pate cans) 
SUMMER ——— She was 11.75 - she's now 10.97 - heading in the right direction - if they want to skip a feeding - doesn't bother me! 

Home again, you should have seen me moving Thomas back up the stairs (when we got home, in his carrier, one step at a time. Broke a sweat! ONE of the staff had helped get him out to the truck....I need a dolly.) 

Summer is judged to be a beautiful cat and is fine. and Thomas hissed and then meowed (after he and Summer declared war and Summer fled his room).
Seemed they BOTH thought hiding under the my bed after the vet trip was a good idea. CAT FIGHT!
I thought my 3 foot dust mop would be a good third party - EVERYBODY OUT! NO FIGHTS IN MY HOUSE! 
Summer now loose in the house and Thomas back under the bed.  

Oh yeah - Tommy needs to drop a few……

Basically everyone in my house is on a diet!

Vet had looked at my rather solid male cuddle bug who is decidedly out of sorts.
"He's HUGE!" 
Yep. 
No wonder the bed creaks.

PS: His miffed at mommy state lasted until dinner. At bedtime he insisted in a long petting session.