August 6, 2011

New OldSpice Guy Fabio


Fabio and Mustafa recently had a DUEL on the internet and TV - FB, Twitter, and I was kept busy clipping videos and posting messages and sending people links.
I have TWO websites (I own them by the way and I am not paid for any of this) www.FabioIFC.com and www.FabioINC.com. I have MY FB page, and then an Official Fabio Fan Club Group Page on FB. And then they had the New Old Spice Guy FB page AND a twitter page. (I don't twitter) I think there was another page.....
And the original Old Spice Website and FB page with Mustafa on them.

And then the Videos had a page - and are all over YouTube. (You had to join YouTube - which MADE you join GOOGLE before you could vote. They are still collecting votes.) This link takesyou to all those videos. Try not to fall off your chair!

It was a competition - TEAM FABIO and TEAM MUSTAFA and besides the ad videos, and the PRINT ads, etc, (and TV, which I never saw), they ALSO made 100 videos each in days - responding to Twitter and FaceBook comments left on those sites. (I don't do Twitter.) They are high camp and hilarious! The guys just did what the ad agency wrote. (They had way too much fun!) In one, Mustafa took a whip to Fabio (and his cowboy boots). I volunteered to get out my leather, if I can still zip up that corset, grab my whip and red satin gloves, and fly up to Portland where they were filming....... I don't think Eric (his manager) thought I was serious. Actually, I don't fly anymore..... except on my broomstick.

(Two gun salute – and yes – it was all about the hair!) (the 200 videos were shot in two "bathrooms" – Mano a Mano el Bano)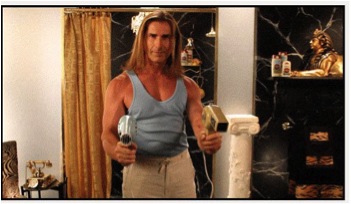 I was blearly-eyed and my wrists hurt! Fabio "didn't win" - but the voting is STILL GOING ON. What did happen was that Old Spice flew off the store shelves (They were introducing new scents - Fiji is evidently the best). It is so far a 107% increase in sales. Fabio is a spokesman and he moves product. Put him on a romance book, order 200,000 extra printed. It was a given. He MADE I Can't Believe It's Not Butter, which is barely noticed since he left. (All the fans stopped buying it.)

Fabio even went to the local channel during all this and did the weather report. Which was fall down hilarious. He was actually pretty good at it – including wisecracks about "Thank you" for the two nice days of sun "for my hair….." (The clothing was dictated by the ad company. We fans were about to rip that blue shirt off of him we were so tired of seeing it!) (Followed by the purple shirt.) (We have volunteered to help him go shopping.) Oh yes, I have bounced off that chest...... I had breast reduction done right after that.....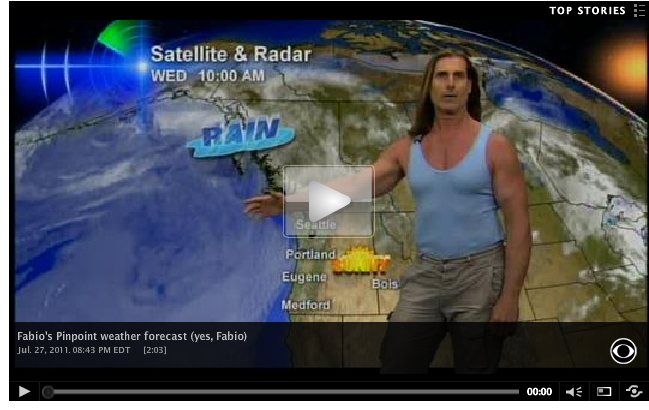 This Print ad is the Fan Fav from the campaign. (Wicked!)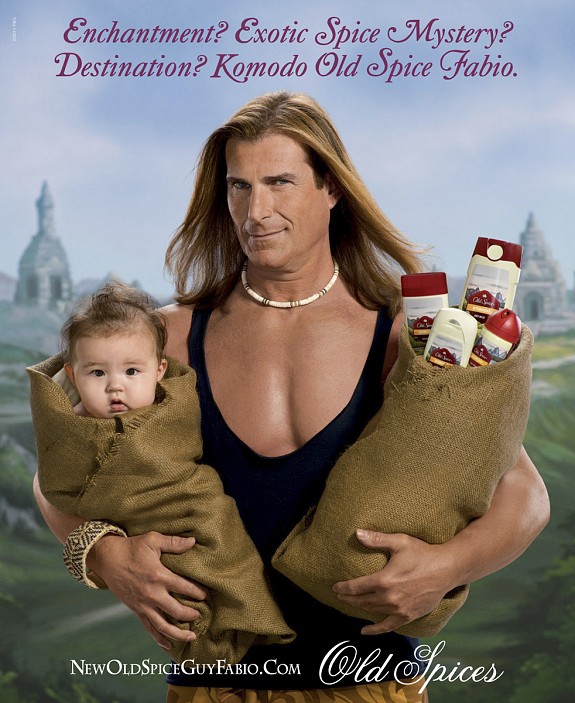 For all my work, Fabio tried and succeeded in getting me the one-of-a-kind shirt he wore in some of the Videos (The TEAM videos), and he autographed it. (It took a little bit of effort – I had heard they were trying.) Now the fans want a photo of me in it! Thank heavens that, for all the extra weight I am carrying around, Fabio's Chest is still bigger than mine!!!!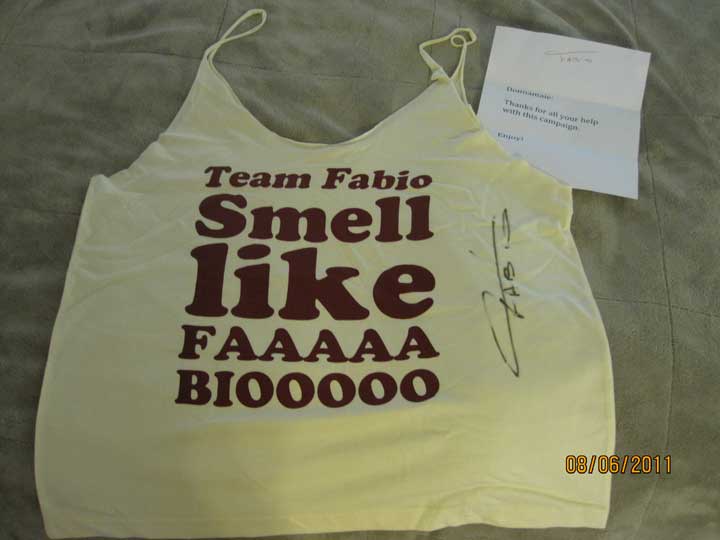 My sister thinks I should put it under glass. Perhaps. Framed on my wall? Or stretched over a pillowcase on the bed? Hmmmmm Hard decision!

Now if I can get "Adventures in Stalking Fabio" into Smashwords while the iron is still hot as they say…….