October 2009
AMCC Q5000 Bipolar VINTAGE ARRAY INFORMATION
AMCC discontinued its Array Business Unit January 1995. [ASIC - Application-Specific Integrated Circuit; not to be confused with today's arrays.]
However, as the chips age, people are trying to understand how they work so they can design a replacement. The seminar and the user manual did not contain any base-die (process) information. Everything discussed involved the two-layer metalization.
The textbook on the left is a summary of the information contained in the user's manual, Vol I and Vol II, and the classroom lecture notes. Here are the references.
The Bipolar Array Series were: Q700, Q1500, Q3500, Q5000 and Q20000.
---
Q5000 Rapid Reference and Quickstart (809) Fast Summary of the Q5000 Bipolar Array Series Design Specifications (Approximately issued in the late 1980s)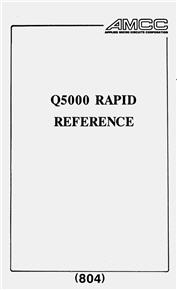 Q5000 Bipolar Array Series Design Manual - Vol I - User's Manual for the Q5000 Array Series (809)
Q5000 Design Manual Text (804) Sections 1-5
Q5000 Bipolar Array Series - Macro Library (804) Section 6
Q5000 Macro Library Quicksheets (809) Section 7 The Q5000 Series array maxed at 5,000 equivalent gates.
Q3500 Datasheet - looking for one

Q1500 Datasheet - http://download.siliconexpert.com/pdfs/2004/0528/index/cs/amcc/qd/d0006647.pdf
Q700 Series Discussion - http://www.edn.com/article/CA6372432.html 1983 article
Q700 Datasheet - Looking for one

---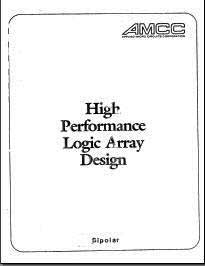 Q3500 High-Performance Logic Array Design Seminar (pre-edif, pre-Design Compiler, pre-RTL, etc.)
This seminar or a version of it ran from the 1984 (Q700 Bipolar) thru 1995 (Q20000 Bipolar), and covered the BiCMOS series arrays and the CMOS arrays. 85% of the design rules remained fixed regardless of the technology. This seminar had some information on the Q700 and Q1500 Bipolar arrays as well.
---
These ApNotes were part of the Seminar